Engage your students with a field trip to Horizons
Finding, planning, and coordinating field trips can be a daunting task for teachers and administrators. We make it easy, meaningful, and walk with you the whole way. We build transformative, screen-free, engaging trips for students.
In a world of disconnection, Bethel Horizons provides field trips for you and your students to connect in meaningful ways. Teachers routinely tell us that their students are connected and show more engagement in their studies upon returning to school. Field trips to Horizons create stronger, healthier school communities.
ARE YOUR STUDENTS?
Disconnected
Bored
Restless
Impatient
Anxious
Unmotivated
Lonely
Inattentive
OUR FIELD TRIPS HELP STUDENTS FEEL
Connected with their self
Connected to each other
Excited
Enthralled with nature
Active
Motivated
At peace with the world
Engaged
Confident
HOURS OUTSIDE
Every moment spent outside opens doors to discovery, learning, and unforgettable adventures.
Meaningful activities
From team-building challenges to ecological explorations, our field trip experiences foster growth, connection, and a deep appreciation for the natural world
face to face interactions
Amidst the beauty of nature, students engage, communicate, and form bonds that last well beyond their time with us.
Two program tracks or a creative mix
Our flexible program tracks empower you to curate a field trip that perfectly aligns with your group's interests and learning goal.
3 Easy Steps to a Great Field Trip
Consider a Trip Type
Environmental education? Adventure and team building? A bit of both? View the field trip tracks below and start to generate an initial idea of what may benefit your students most.
Customize & Schedule
We'll work with you to finalize your dates and customize your trip to help your students connect with each other and the world around them.
Get the Ball Rolling
Use this form to get your trip started. Let us know your preferred dates and type of experience you would like to create for your students. We will be in contact with you within 48 hours.
We offer a variety of environmental education programs that allow your students to connect with the Driftless Area with hands-on experiences. With our expert guides, your students can name plants and animals of southwestern Wisconsin while having fun and enjoying the great outdoors.
Environmental Ed Programs Include
Live Animals
Pond Studies
Nature Hikes
Cliff Exploration
Canoeing
Environmental Games
Our adventure programs teach teamwork and leadership skills. Using the R.I.S.E. model for Respect, Inclusion, Support, and Empathy, we help your students learn how to overcome challenges together. We believe if you respect each other, include each other, support one another, and empathize with each other that you can rise above any challenge.
Adventure Programs Include
Team Building Activities
Low Ropes Challenge Course
High Ropes Challenge Course
Rock Climbing
Rappelling
Mountain Biking
Field trips to Horizons are the highlight of our school year. Our students come back feeling more connected and excited about learning.
Thanks to the adventure programs at Horizons, our students have become more confident and resilient. The R.I.S.E. philosophy has helped them become better leaders and team players.
Environmental Education
Programs
Live Animals

Pond Studies

Cliff Exploration

Nature Hikes

Environmental Games

Exhibit Room

Canoeing at Governor Dodge

*$175.00 minimum charge for groups with less than 12 participants
Combination/Hybrid
Programs
Customizable half-day of environmental education activities

Customizable half-day of adventure activities

*$290.00 minimum charge for groups with less than 12 participants
Team Building

Low Ropes Challenge Course

High Ropes Challenge Course

Rock Climbing & Rappelling

Mountain Biking

*$400.00 minimum charge for groups with less than 12 participants
Field Trip News & Updates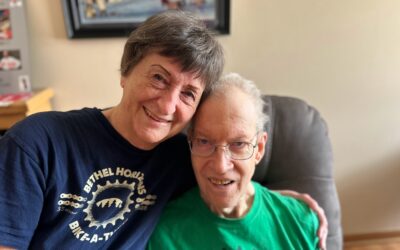 What started as a nice drive in the country to the congregational picnic turned into a lifelong love of service to Bethel Horizons for Mary Lou and Phil Dzick. "It was that first view that did it for me," said Mary Lou, beaming. "After that, we volunteered for every...
read more